Amana AM9C96 – 96% AFUE 2 Stage Multi Speed DC Gas Furnace, All inclusive package $5450, Dealer May Sell For Less
High-Efficiency Two-Stage Multi-Speed Gas Furnace
Up to 96% AFUE
Heavy-Duty Stainless Heat Exchange
Two-Stage Gas Valve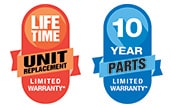 LEARN ABOUT GAS FURNACES FEATURES
Features
Engineered Longevity
A gas furnace is a piece of equipment from which you expect years of uninterrupted service. Amana® brand gas furnaces live up to expectations through intelligently designed components that benefit from decades of performance testing and refinement, like our new stainless-steel heat exchangers. And with outstanding warranties* that demonstrate our confidence, you can purchase an Amana brand furnace safe in the knowledge that it Lasts and Lasts and Lasts®.
Quiet Comfort
Many homeowners may think the best gas furnaces are not seen or heard. That's why an Amana brand AMEC96 Multi-Speed Furnace is insulated for noise reduction. With a sound-isolated blower assembly and a heavy-gauge steel cabinet, it operates at unobtrusive noise levels well below those of furnaces not equipped with these noise-reduction measures.
Energy Efficiency
Energy efficiency equates to cost savings. A gas furnace's efficiency rating can primarily be determined by two factors: its AFUE rating (Annual Fuel Utilization Efficiency), which indicates what percentage of each dollar of natural gas purchased is actually used to heat your home; and the type of blower used in the furnace.
Advantages
96% AFUE
Heavy-Duty Stainless Heat Exchanger
Two-Stage Gas Valve
Multi-Speed ECM motor
Durable 110-Volt Silicon Nitride Igniter
Quiet, Two-Speed, Induced-Draft Blower
Color-Coded Low-Voltage Terminals
Self-Diagnostic Control Board
Heavy-Gauge Steel Cabinet
Thermally Insulated Cabinet
Product Limited Warranty
If the heat exchanger in this gas furnace ever fails for the original, registered homeowner, we will provide a new furnace at no cost. This furnace also has a 10-Year Parts Limited Warranty* on all functional parts. For a full description of all warranties applicable to this product, please see your local Amana brand dealer or click on the consumer brochure and product warranty links on the main page.
Unlike conventional, single-stage furnace technology, our patented convertible technology helps eliminate the temperature swings resulting from abrupt, high-stage stops-and-starts of the furnace by operating at a low heating state the majority of the time. The AMEC96 has an AFUE rating of up to 96%, which means that 96 cents of every $1.00 of heating energy expense warms your home.